**LEARN A LITTLE ABOUT ME**
---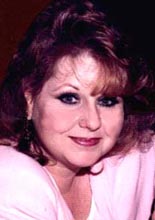 SHARI WARREN "MOM"
---
MELISSA
By Shari Warren
Melissa Lynn Warren: Born, September 26, 1979.
She was the fourth of our four children. I was in
shock to find that I was pregnant after just four
months after my last baby was born. Thinking
about doing that again so soon was very
upsetting. I went to the doctors and took

my vitamins but I just couldn't believe this

was happening. Plus money was so tight.
My prgnancy was normal with no problems.
I went into labor at 7:45 p.m. and had her
at 10:00. My easiest, fastest birth yet.
The doctor put her in my arms and quickly took
her away to be cleaned up. So now we were a
family of six.
A few hours went by and she was brought
in for my first real look at her. She was
asleep and so tiny. Only 5 lbs. even. I
unwrapped her, looked her all over, and
wrapped her up again. She woke up and looked up
at me. What a tiny, pretty little face. Suddenly
I felt this rush of love fill me completely.
I have never felt such love! Probably because
it came upon me all in one second. How could I
not have wanted this precious gift? I just sat
and looked at that little face for hours. I was
completely happy.
From the very first week I could tell this
little girl danced to a different drummer.
She was just different from my other babies.
Melissa grew to be a quiet, shy little girl.
She looked like a pixie with fair skin, blue eyes
and blonde hair. She whispered when she talked.
It was so funny!
As she grew she developed this off-beat
personality. She got much louder and would
entertain us with these characters she would make
up. She would wear costumes and make-up and stay

in that character for hours.
In school Melissa struggled with her studies.
I worked with her but math was so hard for her.
Her whole life she would just look at us when we
would tell her to do something. Then she would
get in trouble for not doing what she was told.
One day I gave her some instructions and she
started to cry saying it was just too much for
her to remember. Even three things would throw
her. We had her tested and found she was mildly
dyslexic. All these years, if only we had known.
She said "Knowing what she had would have made
her life easier". Plus her I.Q. tested way above
average, so her self esteem shot way up.
Not only was her I.Q. high but she is talented
as well. She is an artist and writes poetry.
Plus in the last six months she has taken up the
guitar and seems to be a natural. She is wise
beyond her years. So caring and loving for
everyones feelings. I am so proud of her!
There just aren't many people like her. She
even saved a friends life by getting doctors
to a friend, 2700 miles away, when she wasn't
making sense. It wasn't long before a "thank you
for saving my life" note came.
God gave me Melissa because I think he knew
I would need her. She is my daughter, my
counselor and my true friend. She has taught
me the true meaning of love. I am so happy
I had her and that she's a big part of my life.
"1998"
---